Here's another good example of MSPs speaking out on the topical issues of the day - in this case over an allegation of 'bullying and harassment' at Marine Scotland which is a directorate of the Scottish Government.
Now wouldn't it be great if a Glasgow MSP used First Minister's Questions to highlight some of big issues that have come to the fore during the long fight for equal pay in Scotland's largest council:
Glasgow's WPBR pay scheme which was condemned as 'unfit for purpose' by the Court of Session, Scotland's highest civil court, in August 2017

The WPBR's controversial 37 hour 'rule' which discriminates against the City Council's largely female workforce

The role played by senior council officials during the introduction of the WPBR - did they act in 'good faith' as the council chief executive claims?
So it's good to see MSPs raising important issues on behalf of local constituents in the Scottish Parliament - that's what it's for after all - and in the weeks ahead I hope we will witness Glasgow's MSPs doing their bit to bring the city's long-running equal pay dispute to an end.
http://www.bbc.co.uk/news/uk-scotland-44240538
Nicola Sturgeon 'horrified' by gagged worker photo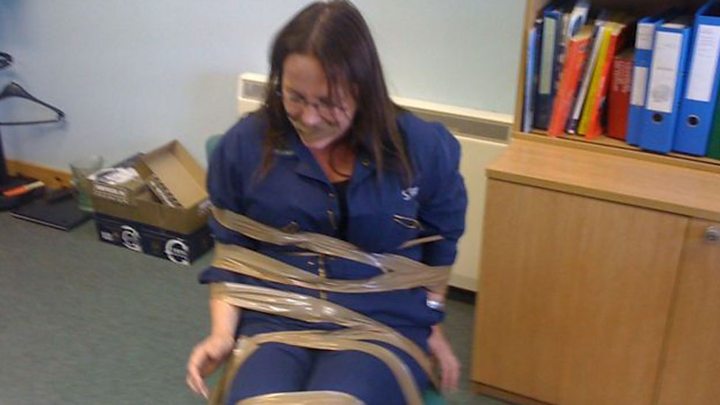 Media caption - Nicola Sturgeon said a review of the 'gagged worker' case would be undertaken by the Scottish government's permanent secretary

First Minister Nicola Sturgeon has told MSPs she is "absolutely horrified" by a photo of a woman allegedly taped to a chair and gagged by male colleagues.

Ms Sturgeon said she had asked a top civil servant to conduct a full review into the circumstances and report to her personally as soon as possible.

The BBC obtained the photo of DeeAnn Fitzpatrick being restrained.

She claims it took place amid years of bullying and harassment at Marine Scotland's Scrabster office.

Ms Fitzpatrick, a Canadian national, said the incident happened in 2010 as a result of her blowing the whistle on a threatening and misogynistic culture at the Scottish government department's base on the far north Caithness coast.

The fisheries officer has taken her case to an employment tribunal.

In evidence to the ongoing tribunal, she claimed that one of the men involved, fellow fisheries officer Reid Anderson, told her: "This is what you get when you speak out against the boys."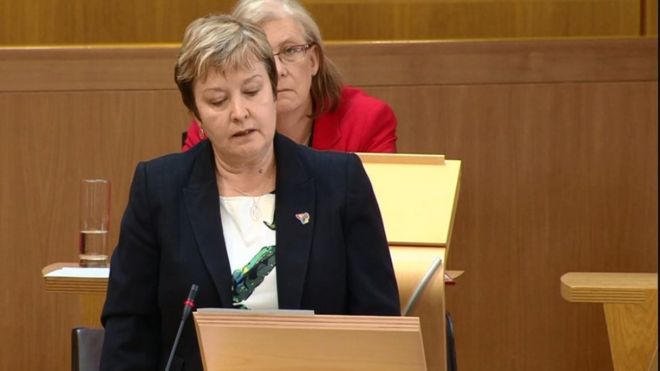 Image caption - Highlands MSP Rhoda Grant asked the first minister to intervene

Highlands and Islands MSP Rhoda Grant, who has been supporting 49-year-old Ms Fitzpatrick, asked Ms Sturgeon at First Minister's Questions whether she would now intervene in the case.

The first minister said she was limited in what she could say because of an ongoing tribunal and internal investigation.

However, she said: "I can tell the chamber I have this morning asked the permanent secretary of the Scottish government to conduct a full review of the circumstances of this case, a review of the actions already taken and a review of the actions proposed to be taken and to report to me personally on her conclusions as soon as possible."

The Scottish government is responsible for Marine Scotland, which is the watchdog for the fisheries and aquaculture industries in Scotland.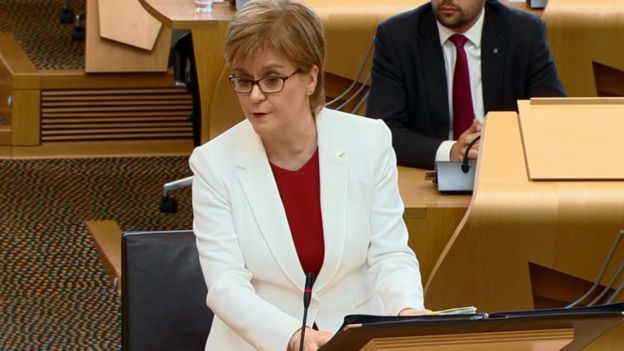 Image caption - First Minister Nicola Sturgeon announced a full review

Ms Sturgeon said: "Bullying, abuse, sexism, racism, have no place in any work place and they will not be tolerated in the Scottish government or its agencies."

She added: "I an absolutely horrified at the photo.

"I am also horrified at the circumstances in which it is alleged to have been taken."

Ms Fitzpatrick has been off work sick since November 2016.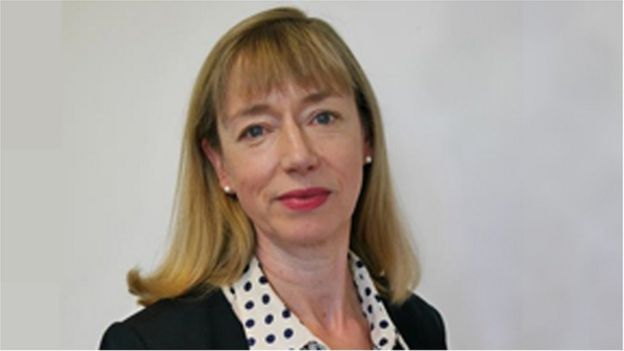 Image copyright - SCOTTISH GOVERNMENT Image caption - Top civil servant Leslie Evans will conduct the review

She claims that over a period of almost 10 years she was subjected to threatening and misogynistic behaviour.

The BBC has seen emails showing Ms Fitzpatrick tried to raise the alleged restraint attack with one of her managers soon after it happened but it appears to have not been taken seriously.

The manager said he would have "a word" with the men involved - Reid Anderson and Jody Paske.

He added: "I am sure they meant no harm and that was the boys just being boys."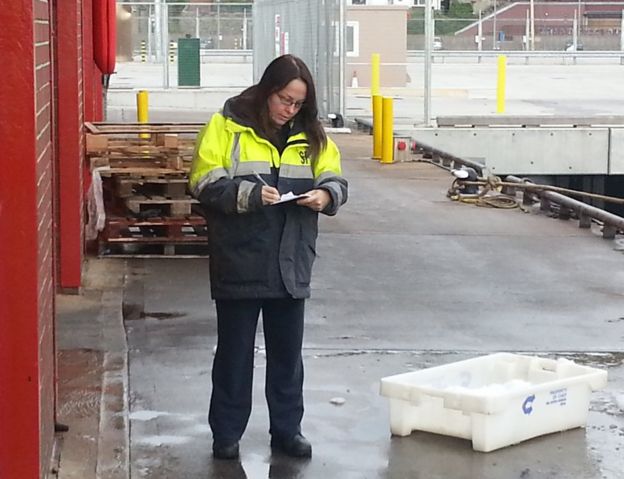 Image caption- DeeAnn works as a fisheries officer checking the operation of the industry



Mr Anderson, who the BBC understands remains employed by Marine Scotland and has recently been promoted, did not respond to the allegations, although civil servants are usually unable to comment without government approval.

Mr Paske, who no longer works at Marine Scotland, told the BBC that the allegations were "lies".

He said: "These are false allegations. I can't remember the event you mention, but if it did happen, it would have been office banter. Just a craic. Certainly nothing to do with abuse."
Glasgow MSPs and MPs (24/05/18)

I think it's perfectly fair to point out that Glasgow's MSPs have been remarkably quiet during the long fight for equal pay in Glasgow City Council.

I said as much yesterday on Twitter, but some SNP supporters are remarkably sensitive to criticism, even friendly criticism, as you can see in the following exchange of Tweets.

Humza Yousaf Retweeted Jamie Maxwell
This week Tory Cllr has been exposed as former Security Advisor & active member of the BNP. He joins an increasing list of Tory bigots who are elected members.
This is the 'moderate', 'centrist', 'detoxified' party Ruth Davidson runs.

Mark Irvine
Good point - but where is Humza on the big 'kitchen sink' issue regarding the fight for equal pay in Glasgow City Council?

Hunter
Is that the fight that liebou r took to court spending 12 million of tax payers money,to fight against equal rights? Snp took over last may, and are awarding it! Is that what you are on about?

Mark Irvine
No, it's dealing with the council in the here and now - good and bad - instead of pretending that because the City Council is SNP-led that everything is wonderful. Why don't you listen to people instead of shouting silly political slogans?

Peter Shand
So the SNP actually doing something about it is a political slogan?

Mark Irvine
Not at all - the SNP Deserve credit where it's due and I've certainly given them that - but no political party deserves people to behave line uncritical cheerleaders. Glasgow's MSPs, for example, have been as quiet as church mice over the past few years while the battle has raged
The reality is that the fight for equal pay in Glasgow is far from over, despite the progress we made yesterday, and if you ask me there is a big role for MSPs as well as other politicians to play because the City Councillors does not have the resource( (borrowing powers, for example) to get out of this mess on its own.
First Minister and Equal Pay (23/05/18)
Can anyone seriously believe that Scottish Ministers are unable to speak out and be critical Glasgow City Council's discriminatory, 'unfit for purpose' WPBR pay scheme - when they are perfectly OK with challenging Marks & Spencer's branding policy?
Here's a great story from The Scotsman which confirms the Scottish Government became directly involved in a row over the branding of Scotch whisky.
Yet when equal pay claimants write to the First Minister about the long-running dispute in Glasgow, a civil servant always answers with the same message:
"Councils are independent of the Scottish Government......yadda, yada yada" (see post below dated 30 April 2018).
So, of course, Scottish Ministers can speak their mind which is even more true when they are speaking in their capacity as local Glasgow MSPs.
In the weeks ahead I think it would be great to hear what both Nicola Sturgeon (Glasgow Southside) and Humza Yousaf (Glasgow Pollok) have to say about:
Glasgow's 'unfit for purpose' WPBR pay scheme

The WPBR's controversial 37 hour 'rule' which discriminates against female jobs

The need for 'openness and transparency' over the role played by senior council officials during the introduction of the WPBR
https://www.scotsman.com/news/politics/scottish-government-challenged-marks-spencer-s-british-branding-for-whisky-1-4740635
Scottish Government challenged Marks & Spencer's British branding for whisky
By TOM PETERKIN - The Scotsman
Cabinet Secretary for the Rural Economy & Connectivity ''Fergus Ewing. Picture: TSPL
The Scottish Government has contacted Marks&Spencer to ask why Scottish food and drink had been branded as being from Great Britain rather than Scotland, it has emerged.
Rural Affairs Secretary Fergus Ewing was briefed on the interaction between a civil servant and the retailer after the M&S website suggested the country of origin for whisky and Scottish gin was Great Britain.
Documents released to the Scottish Conservatives under Freedom of Information legislation reveal the government took the step when a row erupted in November last year. Last night the Scottish Conservatives said the Scottish Government would rather "berate" retailers for "daring to refer to the UK" than creating jobs and growing the economy.
The row erupted when a reader contacted independence-supporting newspaper The National to complain about M&S's website and asked why Scotland "only merits a listing under Great Britain".
He also pointed out that whisky was not referred to as "British whisky". The reader was reportedly told by M&S that customers were happy with how whisky was categorised.
The FoI documents showed that a Scottish Government official contacted the company on 1 November last year and asked to speak on the phone to get "some info on press reports circulating around".
The following day, M&S replied, confirming that a telephone conversation had taken place. The company said the website listing was an "unfortunate mistake" which had been rectified.
The civil servant went back to M&S asking if it intended to "send any tweets (or something) to clarify the situation".
The documents then showed that Mr Ewing was updated on the official's dealings with M&S at a briefing in January this year. Conservative MSP Murdo Fraser accused the Scottish Government of wasting public resources on the controversy.
He said: "There's not a person in the world who doesn't know whisky is Scottish.
"But for the SNP to actively pressure a leading retailer in this way is petty and, frankly, a waste of public resources.
"It shows just how parochial the SNP government is, that it would sooner berate businesses for daring to refer to the UK, than actually help them create jobs and grow the economy. Instead of obsessing about Saltires and pandering to the extreme elements of the Yes movement, the SNP government should be getting on with representing the whole country."
A Scottish Government spokesman said:
"We appreciate the commitment that M&S and many other major retailers make to Scottish high quality food and drink.
"These documents show we raised concerns with the company in a constructive manner. "Scotland's food and drink sector is a huge international success story and it's vital it's promoted appropriately."
First Minister and Equal Pay (30/04/18)
No person in their right mind would expect Nicola Sturgeon to set aside her day job to become a 'rat catcher', but I was intrigued by this article in The Times the other day about a plague of pests which has infested parts of the First Minister's Glasgow Southside constituency.
Because when people write to the First Minister about the fight for equal pay in Glasgow City Council, her spokesperson replies like a character out of Yes Minister by saying:
"Councils are independent of the Scottish Government......yadda, yada yada" (see post below dated 24 April 2018).
But when it comes to an infestation of rats, mice and cockroaches in Govanhill the First Minister is 'closely engaged with the issues according to the following comment in The Times:
"A spokesman for the first minister said: "Govanhill, like many areas, faces specific challenges, and it is important that all sections of the community are included and involved in addressing those challenges. The first minister is closely engaged with issues in the area her constituency office is situated in the heart of Govanhill."
Now I don't know of any Glasgow MSP (or MP for that matter) who is closely engaged in the issues regarding equal pay - I send them information all the time via social media and email, but seldom do I get a response or a Like, Share or Retweet.
And there is a huge amount for MSPs and MPs to engage with by speaking out on a wide range of issues affecting their local constituents including:
The City Council's discredited WPBR pay scheme which has been condemned as 'unfit for purpose' by Scotland's highest civil court, the Court of Session

The WPBR's 37 hour 'rule' which was designed to disadvantage the City Council's largely female workforce

The creation of Glasgow's ALEOs including Cordia which has treated thousands of Home Carers and other staff as second class citizens for years

The less favourable treatment women workers in GCC receive in relation to overtime working and holiday pay

The case for a new Job Evaluation scheme (to replace the WPBR) which is open, transparent and commands the support of the workforce

The need for openness and transparency over the introduction of the WPBR and the role played by the City Council's senior officials
So when equal pay claimants say they are being given the 'run around' by Glasgow City Council on these issues, I would expect local politicians to listen, get closely engaged and speak up on behalf of their constituents.
Which is presumably what's happening over the rats, mice and cockroaches in Govanhill.
https://www.thetimes.co.uk/edition/scotland/pests-plague-residents-of-sturgeon-s-constituency-hm2bpjzt2
Pests plague residents of Sturgeon's constituency
By Marc Horne - The Times
Residents of Govanhill, one of Glasgow's most impoverished areas, are affected by infestations - TIMES PHOTOGRAPHER JAMES GLOSSOP

The full extent of infestations of rats, mice, cockroaches and bedbugs affecting residents in the first minister's constituency has been revealed.

Glasgow city council figures have outlined the scale of the problem in Govanhill, home to many migrants and refugees. The district, which covers one square mile and has a population of 14,000, accounts for almost all insectrelated callouts to city council pest controllers.

Scotland's largest local authority spends more than £175,000 a year on pest control. However, efforts to contain the problem are being undermined by rogue landlords letting squalid, unhygienic properties and residents who are not washing the affected bedding and clothing at high enough temperatures to kill bedbugs.

The report throws further light on conditions in the area where specialist officers from the National Child Abuse Investigation Unit are conducting an inquiry, prompted by a Times report which revealed vulnerable children were being sold for abuse in the district.

Since 2009 almost 7,000 incidents involving bug contamination have been dealt with in the area, which is part of Glasgow Southside and is represented by Nicola Sturgeon. A further 3,000 cases featuring rats and mice have been recorded since 2014.

Paul McGrath, the report's author, writes: "From July 2008 to date, in excess of 6,700 bedbug and cockroach complaints have been received, involving more than 1,500 properties. Govanhill accounts for over 95 per cent of bed bug and cockroach complaints in the city. There are a number of factors pertinent to Govanhill which contribute to the current situation, aiding the spread of infestations. These include property disrepair, unhygienic properties, frequent resident moves, overcrowding and poor co-operation."

The document notes that council officers, accompanied by interpreters, regularly visit properties in the area to "encourage behavioural changes".

Mr McGrath adds: "Perhaps the largest problem faced in relation to bedbug treatments has been the fact that residents rarely fully prepare flats for sprays or wash clothing at 60C after treatment, which is essential to kill all life-cycle stages of the bedbug."

Cockroach callouts have fallen but the numbers involving mice climbed from 90 in 2014 to 724 last year and 303 rat incidents were also recorded.

Anas Sarwar, Scottish Labour's health spokesman, called on Ms Sturgeon to take action. He said: "No one should have to live with pest or bug infestation in 2018 and it is time the first minister, whose constituency this is, and all the relevant authorities worked together to get this issue sorted out.

"Condemning people to live in conditions like this is simply intolerable and cannot go on."

Annie Wells, Scottish Conservative MSP for Glasgow, added: "The first minister prides herself on being a progressive politician constantly talking about the kind of place she wants Scotland to be. Yet in her own back yard appalling poverty is allowed to unfold." Many of those living in overcrowded and substandard rented accommodation are members of Govanhill's 4,000-strong Roma community.

Marion Nisbet of Crosshill and Govanhill community council said: "It's outrageous in the 21st century we have got children in Govanhill that are scared to get up and go to the toilet at night because the place is riddled with mice, cockroaches and the rest of it."

A city council spokesman said: "As a direct consequence of our pest control work in Govanhill the number of related calls has dropped significantly in the past four years.

"To get fully on top of this issue we ask for further co-operation from landlords and residents."

A spokesman for the first minister said: "Govanhill, like many areas, faces specific challenges, and it is important that all sections of the community are included and involved in addressing those challenges. The first minister is closely engaged with issues in the area her constituency office is situated in the heart of Govanhill."
First Minister and Equal Pay (24/04/18)
I am a fan of the First Minister Nicola Sturgeon, especially after her speech on equal pay at last year's SNP conference in Glasgow.
Equal pay claimants have been writing to the First Minister recently to express their concern about the painfully slow progress in settlement negotiations with the City Council and are receiving a standard response like the one below.
Dear M
Thank you for your email of 8 March to the First Minister, Nicola Sturgeon MSP, regarding the settlement of outstanding equal pay claims by the City of Glasgow Council. I have been asked to reply.
Councils are independent of the Scottish Government and are responsible for meeting their legal obligations to their employees, including those on equal pay. Ministers therefore cannot force councils to settle equal pay claims. However, Ministers have repeatedly made clear that delays by councils in settling equal pay claims are completely unacceptable.
Following the resolution of outstanding legal action last year we understand the council has been meeting Trade Unions to negotiate a settlement. Whilst the Scottish Government cannot intervene directly the First Minister said at the SNP conference on 10 October that equal pay will be delivered for women council workers in Glasgow. We hope the Council and Trade Unions will reach agreement and resolve all outstanding claims soon.
I hope this reply is helpful.
Yours sincerely
Anthony Romain
Local Government Division and Analytical Services Division
Now this strikes me as 'Yes Minister' response because the civil servant who wrote this letter doesn't seem to know that Action 4 Equality Scotland, GMB and Unison are all involved in the settlement negotiations with Glasgow City Council.
A point of detail, perhaps, but civil servants are supposed to be very strong on detail, so who knows what's going on.
In any event, the real issue is nonsensical line that "Councils are independent of the Scottish Government......yadda, yada yada".
Because the point is not that people expect the First Minister, or any other politician, to storm the City Chambers and seize the levers of power.
Instead the point is that the First Minister and other Glasgow politicians are perfectly free to speak their mind and speak up on behalf of their local constituents - about the 'unfit for purpose' WPBR pay scheme or its blatantly discriminatory 37 hour 'rule', for example.
Now Glasgow's politicians comment publicly on all kinds of things, as they should, on a daily basis and the fight for equal pay in Glasgow is no different, especially as this struggle is taking place in their own backyard.
Yet they seem strangely reluctant to say a great deal even though blatant examples of pay discrimination are occurring every day right under their own noses.
So over the next few weeks (in the run up to 22 May) we should aim to bring out the 'Wild Bunch' side of their personalities because for far too long they've been the 'Quiet Bunch', sitting on the sidelines as spectators.
First Minister and Equal Pay (21/04/18)
Here's an excellent and heartfelt letter which a long-serving Home Carer has written to the First Minister, Nicola Sturgeon, about the fight for equal pay in Glasgow.
Dear Nicola.

As a woman working in a mainly dominated male environment and getting to the top slot in your chosen profession,
I find it so frustrating to see the Scottish Parliament is allowing a long drawn out equal pay claim from GCC.

After having seen the salaries these officials are handing out to each other, what is the SNP going to do about a clear abuse of power in the biggest council in Scotland.

I have been a SNP voter since Margo Mcdonald won Govan in the 60s.

What powers if any, do the elected counsellors have in running GCC.

Having looked at the shambles the officials have created since 2005, if they were employed in the private sector they would have all been sacked for causing their company all the expense that was just disgraceful management in their part.

These officials who are giving themselves these massive pay rises plus pension increases are using the council as their own personal bank.

I have to wonder are there any grounds for the fraud squad to have a look at what they have been up to for years.

I would like to think that as the first minister you could do something to help out all these ordinary working women who are at an age where some of them have actually died awaiting a pay out from these council Oligarths.

So please please help us Nicola we need you.

YOURS SINCERELY

G

Existing Cordia Worker For 22yrs
Now I can't say that I see any grounds for the 'fraud squad' to intervene, but I do take G's well made point that if this had happened in the private sector some of the people involved in Glasgow's decade long equal pay scandal would have paid a heavy price by now.
So I hope G's letter will inspire others to contact their local councillors, MSPs and MPs in the run up to the next settlement meeting with the City Council on 22 May 2018.
Believe me politicians do take these kind of letters seriously and the more people who take the time and trouble to state their case honestly and sincerely - the better it will be for all concerned.
One suggestion I would make is that a group of equal pay claimants from Nicola Sturgeon's local constituency (Glasgow Southside) should get together and ask Nicola for a meeting as the local MSP.
I don't expect Nicola Sturgeon or any other Glasgow politician to barge in somewhere they don't belong.
But Glasgow's politicians are entitled to speak out on important issues on behalf of their local constituents including:
Glasgow City Council's discredited WPBR pay scheme which Scotland's highest civl court, the Court of Session, has condemned as 'unfit for purpose'

The WPBR's bogus 37 hour 'rule' which was deliberately designed to disadvantage female dominated jobs in Cordia and elsewhere within the Council

The nonsense of senior officials refusing to disclose vital information on the WPBR because this might cost Scotland's largest council more than £600.
So let's hope that Nicola and other Glasgow politicians come off the fence, find their voice and start to speak up on behalf of local constituents who have been treated as second class citizens for years.