Action 4 Equality Scotland
Thursday, 20 October 2016


Saturday Night Live and Alec Baldwin nail the real Donald Trump!




Here's an extract of a report from North Lanarkshire's Health and Social Care Partnership (HSCP) which met on 13 September 2016.
Now I said recently that if I were a Home Support worker in NLC I would be taking a very close interest in what the HSCP is saying and doing, not least when you read words like:
"This will necessitate an increased contribution from the independent and third sectors.."
"The current contracts will expire in March 2017. These contracts need to be re-negotiated via the approved procurement routes in order to maintain the current workforce levels"
".....it is proposed that this skilled workforce supports more complex needs as part of a multi-disciplinary team."
"A commission work team will evaluate new models of care and give consideration to remodelling processes and redesigning the workforce to introduce greater choice and flexibility for service users."
"The impact of increased costs (on the Home Support service) on the current funding envelope will need to be reviewed."
Now the local trade unions in North Lanarkshire are attending the HSCP partnership meetings, but as far as I know there has been little if anything, in the way of reporting back to members on the ground.
Even though the implications for

Home Support jobs are clearly enormous.
North Lanarkshire Update (18/08/16)
I understand that a potentially crucial meeting of the Joint Integration Board (JIB) of North Lanarkshire's Health and Social Care Partnership (HSCP) is taking place on 12 September 2016 I believe.
As regular readers know this JIB/HSCP body is responsible for devising a detailed strategy to bring council-run care services and NHS services together, possibly under single service provider.
But as far as I can tell the ordinary rank-and-file members in North Lanarkshire Council know very little of what is going and how these discussions might affect their future interests.
So what I'd be interested to find out is whether there are any plans to brief members such as Home Care workers on what the JIB/HSCP has been discussing including options for the future os the service which have been the subject of speculation in the press.
Now if I were a member in NLC I would certainly expect a detailed report back from the union reps involved in these discussions,
so
that members can have their say and influence important meetings such as the one coming up on 12 September 2016.
If any readers have useful information or thoughts to pass on, drop me a note and I'll share the details on the blog site - in
confidence, of course.
A kind reader has sent me a copy of a confidential report from a body known as the Joint Integration Board (JIB) of North Lanarkshire's Health and Social Care Partnership.
The JIB is just a fancy name for a big committee made up of very senior officials from North Lanarkshire Council and Lanarkshire NHS who have been charged with the task of getting social care (council-run) services and NHS services to work more closely together and more effectively, with a view to reducing 'bed-blocking' for example.
The report is dated 4 May 2016 which is important because the article below from The Motherwell Times with the banner headline "Home support staff are staying in-house" is dated 29 April 2016.
Yet the JIB report (dated a week later) says in Appendix 3:
4. Home Support
"Currently, around 77% of this service is provided in house, with 23% purchased from commissioned providers. The savings option was based on increasing the proportion the service purchased to 60%, although it would have remained the Service's intention to provide as much re-ablement and complex care as possible in-house whilst buying in more support overall."
Now the JIB statement directly contradicts a previous decision of North Lanarkshire Council and I find it hard to believe that such senior officials were not aware of the Council's new policy stance.
So why is the Health and Social Care Partnership still pressing head with plans to out-source much of North Lanarkshire Council's home care service?
If you ask me, the Home Care workforce deserves some urgent answers because this JIB business just doesn't sound right.
http://www.motherwelltimes.co.uk/news/local-headlines/home-support-staff-are-staying-in-house-1-4114558
Home support staff are staying in-house
Friday 29 April 2016
Home support workers sent a clear message they wanted to remain as council employees

Home support workers employed by North Lanarkshire Council will not see their contracts being transferred to the private sector.

The council currently employs around 1,400 care staff who provide vital services to local people.

Following budget cuts, one of the proposals to save £3.6 million being considered was to 'TUPE transfer' around 400 staff to a third party private provider.

During a public consultation about potential savings the public told the council this was the sixth least palatable option of the 98 listed.

The workers themselves also submitted over 15,000 letters they had collected from the public calling on the council not to take this action.

At the Housing and Social Work Services Committee yesterday (Thursday) convener Barry McCulloch announced this proposal will not be going ahead.

Councillor McCulloch said: "I am glad to announce our home care support will be remaining in-house. This was always our preferred option.

"Everyone knows what a vital job these people do to support those in need in our local communities, and I'm glad this has now been dropped.

"This has been made possible by relocating people in some of our care facilities and by vacancies arising within the service.

"We look forward to our home support staff continuing to provide an excellent service in our communities."
His Master's Voice (18/06/16)
The trade unions in North Lanarkshire have shown their willingness in recent weeks to act as a mouthpiece for the Council, as this post on the future of the Home Care services demonstrates only too well.
Days later the unions issue a joint press release with North Lanarkshire extolling the virtues of the late-running job evaluation (JE) review, yet the full details of this review have still not been released and the workforce remains firmly in the dark.
Strange days indeed and ordinary union members could be forgiven for asking what they are paying their union dues for, especially when the level of service and support is so poor.
NLC Update (27/05/16)
A kind reader from North Lanarkshire sent me the following statement which has appeared on the Facebook page of the local Unison branch.
HOME SUPPORT MEMBERS
"in light of recent concerns over the future of home support, the bench asked the council to clarify its position on privatisation and TUPE transfer of home support workers.
"the council have assured UNISON that there are NO PLANS to privatise and TUPE transfer home support and that Cllr McCulloch's statement earlier this month where he said that privatisation was off the table still stands."
Now I think's it's a good thing that the union has been stirred into action, but why is Unison speaking on the Council's behalf?
Surely a senior figure from North Lanarkshire Council should be seeking these words 'on the record' was it were, otherwise they're not worth the paper they're not written on - as an old friend of mine was fond of saying.
Not only that, a clear statement of the Council's position should be sent to the Joint Integration Board of Lanarkshire's Health and Social Care Partnership so that the record can be set straight at its next meeting.
Mike Hookem is the UKIP politician allegedly involved in a bust-up with his fellow MEP Steven Woolfe who collapsed, in mysterious circumstances, following a UKIP meeting in the European Parliament.
It's frightening that the clowns are actually representing UK citizens in the European Parliament and it puts a whole new meaning on the words 'taking back control'.
Incredibly, Mr Woolfe has now resigned from UKIP altogether explaining that the party is now ungovernable without Nigel Farage in charge and without the 'glue' of an EU referendum to its fractious members.
Taking Back Control (12/10/16)
A favourite slogan of 'Brexiteers' during the great EU referendum was that leaving the European Union would mean the UK 'taking back control' of the country's economy.
Strange then that the UK pound has been falling like a stone in recent months against both the Euro and the US dollar, especially as a country's currency is widely regarded as an important indicator of its economic strength.
So the currency markets view the UK pound as a poor investment for the foreseeable future
even though the economic outlook is brighter according to those who believe that leaving the European Union is a really good idea.
The Telegraph cartoonist, MATT, has some fun with this nonsense by conflating the collapse of the Pound with the mysterious collapse of the would-be UKIP leader, Steven Woolfe.
Comedy Act (06/10/16)
No sooner do I mention UKIP's Diane James on the blog site than the party's newly elected leader announces her resignation before stomping off the logical stage.
Swiftly followed by the news that one of her potential successors, Steven Woolfe, has ended up in hospital after an 'altercation' at a meeting of UKIP MEPs in the European Parliament.
If you ask me, UKIP is more like a comedy act these days than a serious political party but they are clearly benefiting from the 'anti-politics' mood which has galvanised many voters in the western world.
No doubt Nigel Farage is still pulling UKIP's strings behind the scenes.
Frogs and Princes (04/10/16)

Gordon Brown long-running feud with Tony Blair was one of Westminster's
worst kept secrets for years, but for the most part, in public at least, the big beasts of the New Labour jungle managed to rub along together.
Unlike the new UKIP leader Diane James who seems more than prepared to share her distaste at the prospect of an embrace and a kiss on the cheek from her predecessor, Nigel Farage.
Perhaps Diane knows more than she's letting on.
Wednesday, 19 October 2016
I was unmoved an Melania Trump's attempt to come to her husband's rescue on CNN over the now infamous Access Holywood tape in which the business mogul boasted that his celebrity status allowed to do 'anything he wanted to women' including 'grabbing them by the pussy'.
Melanie had the same kind of delivery as Conan the Barbarian, but much more damaging was her excuse that boys will be boys and that her 59 year-old husband (at the time) was egged on by his much younger and junior companion, Billy Bush.
Now it can't be easy being a young 'trophy' wife, yet the thought of Melania becoming America's First Lady is almost as terrifying as the real Donald Trump becoming the leader of the free world.
Stand Up, Speak Out (15/10/16)
Michelle Obama is not a politician, but America's First Lady spoke with great passion in this speech in which she addressed Donald Trump's ugly locker-room 'banter' and allegations that he is a serial sexual predator.
"I can't believe that a candidate for president of the United States has bragged about sexually assaulting women. I can't stop thinking about this. It has shaken me to my core more than I ever could have predicted."
Michelle Obama went on to disparage Trump without once saying his name and to urge those in the audience to do everything they can to elect Hillary Clinton. Read some of her best quotes below:

On Donald Trump's behaviour:

"This is not how adults behave, this is not how decent human beings behave, and it's certainly not how someone who wants to be president of the United States behaves," she continued. "This wasn't just locker-room talk. This was a powerful individual speaking freely and openly about sexually predatory behavior, and actually joking about kissing and groping women."

On her own reaction to the accusations:

"Last week we saw this candidate actually bragging about sexually assaulting women. I can't believe I'm saying that a candidate for president of the United States has bragged about sexually assaulting women. I have to tell you that I — I can't stop thinking about this. It has shaken me to my core in a way that I couldn't have predicted."

On the phrase "locker-room talk":

"Strong men, those who are role models, know that they don't have to tear women down to lift themselves up. To dismiss this as locker-room talk is an insult to decent men everywhere."

On Trump's fitness for office:

"If we have a president who routinely degrades women — who brags about sexually assaulting women — then how can we maintain our moral authority in the world? How can we continue to be a beacon of justice and human dignity?"

On women's power to influence the election:

"We simply cannot endure this or expose our children to this any longer," she said. "Now is the time for all of us to stand up and say enough is enough. This has got to stop right now."
"Imagine waking up on November 9, and imagine how you'll feel if you stayed home or if you didn't do everything possible to elect Hillary. We cannot let that happen. We need to recover from our shock and depression and do what women have always done in this country. We need to roll up our sleeves — we need to get to work."
Well said, if you ask me.
Posted by

Mark Irvine
at 09:11


A cornerstone of the law in the UK is that an accused person can only be tried on the evidence uncovered during an alleged crime - their previous criminal record (if they have one) cannot be taken into account under any circumstances.
So, even if a person has a history of committing similar offences in the past, their criminal history cannot be raised in court for fear of 'tainting' the jury and the evidence they have to consider before reaching a verdict.
In the following article for The Guardian, Vera Baird (a lawyer) explores some of the legal arguments surrounding the Ched Evans case which has overturned a rape conviction solely on the grounds of the victim's sexual history.
Dani Garavelli also wrote a thoughtful piece in Scotland on Sunday the other day which you can find via the Scotsman link below.
https://www.theguardian.com/commentisfree/2016/oct/17/courts-judge-rape-sexual-history-ched-evans-case
We cannot allow the courts to judge rape by sexual history
By Vera Baird - The Guardian

The Ched Evans case threatens women's right to fair treatment in the courtroom. Battles won may have to be fought again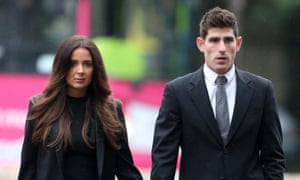 Ched Evans and his fiancee Natasha Massey outside Cardiff crown court. Photograph: Huw Evans/Rex Features

The footballer Ched Evans had much to say following his rape acquittal, and the weekend newspapers gave him a platform to say it. Now rape campaigners must come to terms with the legacy of his case. By clearing the way for two men to tell the jury they'd had sex with the complainant, the court of appeal effectively converted his earlier conviction into an acquittal. Some lawyers say this was a rare case and doubt that, as a precedent, it will affect many future cases. But other lawyers – and I am one of them – fear that rape trials could become inquisitions into the complainant's sex life.

We seem to be returning to a mindset and practices we thought were confined to history. In seeking – as we now must – to find a new way forward, it's worth recalling how we reached this point.

The fear of a complainant being confronted with evidence relating to sex with other men is, and has always been, a huge deterrent to reporting rape. In 1976 judges were given powers to prevent defence lawyers using that tactic, but the discretion they enjoyed was wide, unregulated and infrequently used. So a rape defendant could bring Mr B and Mr C to testify that the complainant had had consensual sex with them. The argument would run, she consented to me as well because she'll have sex with anyone. The two arguments – she's a tart and you can't believe a word she says – were what women, not surprisingly, feared. These were the "twin myths" that flowed from the use of previous sexual history.
The worst thing about the Ched Evans retrial was not his acquittal – though the way the case was handled raises questions about the criminal justice system – it was the wave of misogyny it unleashed among the kind of men who think women are "asking for it", and the rekindling of falsehoods about the prevalence of malicious allegations.
The outpouring of vitriol towards the woman at the centre of the case – the demands for her to be arrested, thrown in prison, "raped for real" for her "lies" – were not only a distortion of the jury's position on her reliability, but an insight into the hatred of women that flourishes in the darkest corners of society.
Some of those men blame her for "ruining" the striker's career at Sheffield United, though, she is the one whose life has been systematically destroyed. While Evans is already back playing, this time at Chesterfield, her reputation has been trashed. Illegally identified on Twitter by Evans' supporters, she had to assume a new identity for her own protection.
Sick Football Culture (15/10/16)
Ched Evans (centre), who was found not guilty of rape, listens with his girlfriend as his solicitor reads out a statement after his acquittal CREDIT:GETTY IMAGES
Oliver Brown, chief sportswriter at The Telegraph, had some harsh words for Ched Evans and his supporters following the Court of Appeal's controversial decision to overturn the footballer's conviction for rape.
"The established facts of what happened at the Premier Inn near Rhyl on the night of May 30, 2011, are sordid enough: Evans lied, as he admitted in court, to obtain the key that gained access to the bedroom, did not speak to the young woman before, during or after sex, then left the hotel by a fire exit.
"As for the impression of contrition, forget it. His statement on Friday that he "wholeheartedly apologised to anyone who might have been affected by the events of the night in question" does not square with the fact that he has stood by while a website has published horrendous character assassinations of the woman concerned. Her life, to a greater extent even than his, has been ruined. If a man such as Evans is now to be made a martyr, then the culture of football in Britain truly is sicker than we thought."
Read the rest of what is a challenging and thoughtful article via the following link to The Telegraph:
http://www.telegraph.co.uk/football/2016/10/14/team-ched-show-just-how-sick-football-culture-in-britain-is/
'Team Ched' show just how sick football culture in Britain is



BY OLIVER BROWN - The Telegraph


"Naturally delighted." These were the indelicate words of Chris Turner, Chesterfield's chief executive, upon hearing that Ched Evans was no longer a convicted rapist.

Quite where the notion of delight fitted into this sleazy, tawdry, deeply unedifying tale was anybody's guess, but Turner decided there was not a moment to lose in circling the wagons. "We can now all move on and focus on football."

They never learn, do they, this tone-deaf band of blazers? Cast your minds back to 2012, when Evans received the conviction that was quashed earlier this year. How do you suppose the Professional Footballers' Association responded to the news? With horror, or at least a few deftly-chosen words of censure? No, it decided to include him in its League One 'team of the season'. When Evans cropped up among the names read out at Grosvenor House that evening, the clapping continued unabated.
Posted by

Mark Irvine
at 09:10